Jun 1 2017
Air-source Heat Pumps for Treasure Coast Homes
Air-source heat pumps for energy efficiency.
For South Florida homeowners air-source heat pumps are an energy-efficient alternative to furnaces and air conditioners. Because the Treasure Coast seldom sees extended periods of sub-freezing temperatures its residents can take advantage of heat pump technology.   There are three types of heat pumps: air-to-air, water source, and geothermal. They collect heat from the air, water, or ground outside your home and concentrate it for use inside.  This article focuses mainly on air-source heat pumps.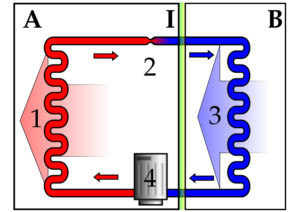 An air-source heat pump system transfers heat from outside to inside a building, or vice versa.  Under the principles of vapor compression refrigeration, an ASHP uses a refrigerant system involving a compressor and a condenser to absorb heat at one place and release it at another.  During the heating season, the air-source heat pump moved heat from the cool outdoors into your warm house. During the cooling season, the heat pump moves heat from your cool house into the warm outdoors.
The most common type of heat pump is the air-source heat pump, which transfers heat between your house and the outside air. Today's air-source heat pump can deliver one-and-a-half to three times more heat energy to a home than the electrical energy it consumes. High-efficiency air-source heat pumps also dehumidify better than standard central air conditioners, resulting in less energy usage and more comfort all year around.  Air-source heat pumps have been used for many years in nearly all parts of the United States, but the Treasure Coast area is ideally suited for heat pump technology.
For homes without ducts, air-source heat pumps are also available in a ductless version called a mini-split heat pump.
Advanced Features to Look for in Air-source Heat Pumps.
A number of innovations are improving the performance of air-source heat pumps.
Unlike standard compressors that can only operate at full capacity, two-speed compressors allow heat pumps to operate close to the heating or cooling capacity needed at any particular moment. This saves electrical energy and reduces compressor wear. Two-speed heat pumps also work well with zone control systems. Zone control systems, often found in larger homes, use automatic dampers to allow the heat pump to keep different rooms at different temperatures.
Some models of heat pumps are equipped with variable-speed or dual-speed motors on their indoor fans, outdoor fans, or both. The variable-speed controls for these fans keep the air moving at a comfortable velocity, minimizing cool drafts and maximizing electrical savings. It also minimizes the noise from the blower running at full speed.
Although most heat pumps use electric resistance heaters as a backup for cold weather, heat pumps can also be equipped with burners to supplement the heat pump. Back-up burners help solve the problem of the heat pump delivering relatively cool air during cold weather and reduces its use of electricity. There are few heat pump manufacturers that incorporate both types of heat supply in one box, so these configurations are often two smaller, side-by-side, standard systems sharing the same ductwork. The combustion fuel half of the system could be propane, natural gas, oil, or even coal and wood.
In comparison with a combustion fuel-fired furnace or standard heat pump alone, this type of system is also economical. Actual energy savings depend on the relative costs of the combustion fuel relative to electricity.
---
Have you decided that an air-source heat pump is right for you? Do you have a heat pump that needs to be serviced?  Give us a call; we can help you every step of the way.
---
Would you like a complimentary…no obligation …project consultation? Please feel free to call for more details.
Goodiel Electric, LLC
.
Glenn Goodiel.
Mobile: 772-263-2333.
Florida License – EC13005097.
Call Goodiel Electric for a Great Deal.
Call electrician and Martin County electrical contractor Glenn Goodiel for all your electrical service needs.
In Martin County, Goodiel Electric, LLC. services Hobe Sound, Indiantown, Jensen Beach, Jupiter Island, North River Shores, Ocean Breeze Park, Palm City, Port Salerno, Rio, Sewall's Point and Stuart.
In St. Lucie County, Goodiel Electric, LLC. services Port Saint Lucie, St. Lucie West, Tradition, Torino, Tesoro, Lake Charles, Lake Forest, Magnolia Lakes, PGA Village, The Vineyards, St James Golf Club, The Cascades, Fort Pierce, and the unincorporated areas of St. Lucie County.